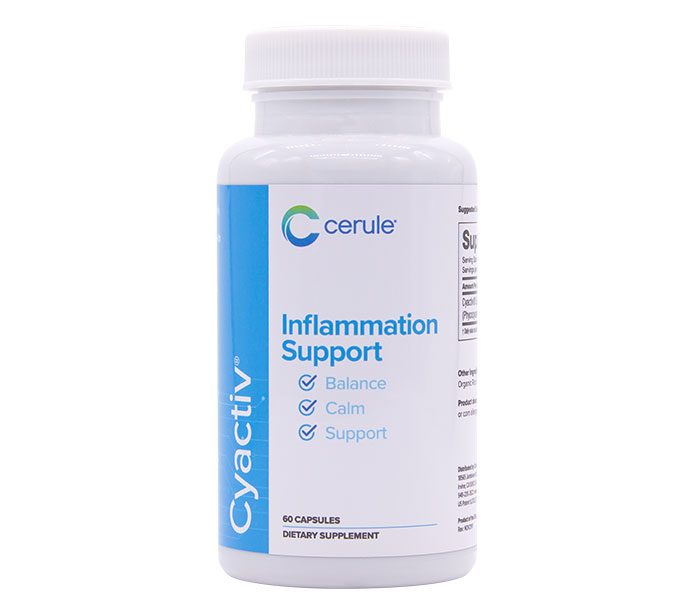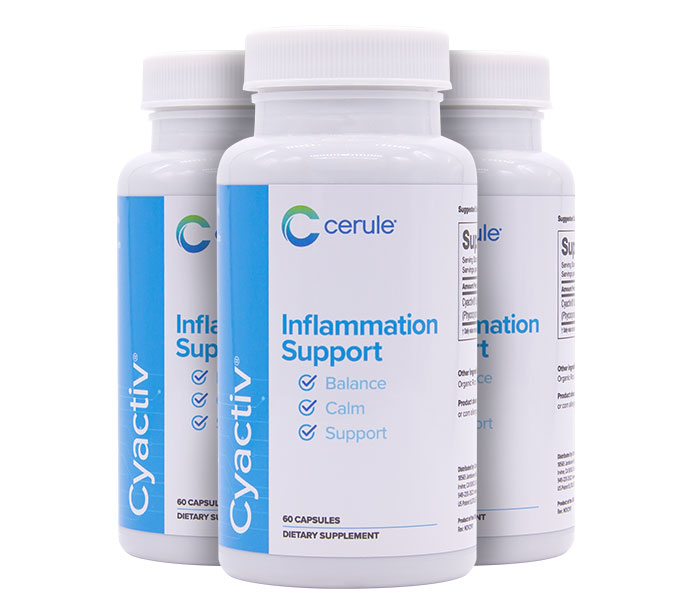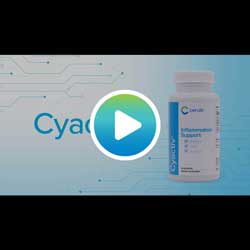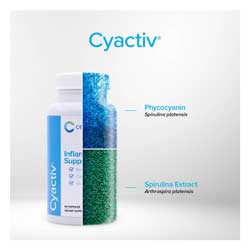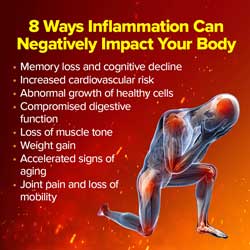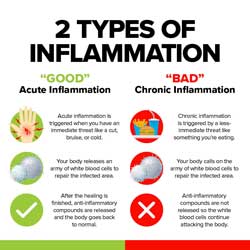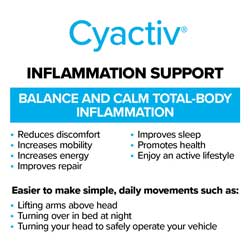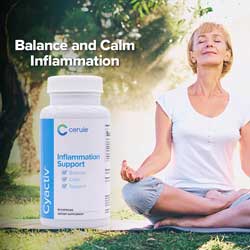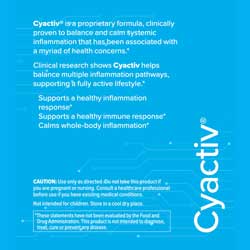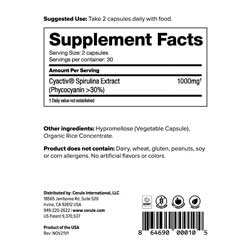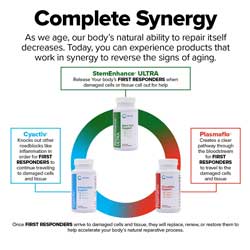 BALANCE AND CALM WHOLE-BODY INFLAMMATION
Cyactiv

®
60 Capsules | 30 Day Supply
Big Savings: as low as $57 per bottle!
---
Best Savings: as low as $60 per bottle!
---
Best Savings: for your monthly supply
Join Cerule as a Preferred Customer to enjoy discounted pricing for as low as $58 with a monthly AutoShip.
All AutoShip orders come with FREE SHIPPING and can be personalized with products of your choice. Want to SAVE even more? Set up a personalized Wellness Pack AutoShip of 3, 4, or 6 bottles. Never worry about running out of product!
Shop Wellness Packs
Join Cerule as an Independent Business Owner (IBO) to enjoy wholesale pricing for as low as $58 with a monthly AutoShip.
You will start earning commissions, bonuses, incentives, all-expense-paid trips, and more by simply referring Cerule products to others.
Become A Member
Balance | Healthy inflammation response, helping to maintain inflammation within the normal range.*

Calm | Healthy inflammation supports the capacity of nutrients, oxygen, and stem cells to find and rejuvenate tissues in need of renewal.*

Support | The homing of adult stem cells to affected tissues and help neutralize existing free radicals to provide cellular protection against the formation of new oxidative stress.*
Why is Inflammation Management Important?
Inflammation is a double-edged sword. While short-term inflammation is a necessary and healthy response to injury, recurring inflammation due to prolonged stressors can cause a healthy inflammation response to get stuck in an overactive cycle. If the body is unable to reset the balance, sustained or chronic inflammation can compromise the body's ability to self-heal.*
Cyactiv is a proprietary formula proven to reduce systemic inflammation that has been associated with a myriad of health issues. Balancing whole-body inflammation assists the homing of stem cells to affected tissues.*
Clinical research shows Cyactiv helps balance multiple inflammation pathways, supporting a fully active lifestyle.*
PRODUCT EDUCATION Inflammation
What is Inflammation?
Redness, swelling, tenderness, heat and disturbed function of an area of the body, especially as a reaction of tissues to injurious agents.
For example, if you have a cut, an injury or an infection, local compounds are then released to increase the blood flow to that area to attract immune cells and adult stem cells, so that these cells can do their job and repair the tissue.
Then when this area is repaired, everything goes back to normal. However if the area doesn't repair and fully recover, the inflammation continues and can become systemic and silent.
Examples of this are:
Getting up in the morning with pain in your knees, discomfort and stiffness in your hips, shoulder or neck. You may have trouble turning your head to back your car, lifting your arms to hang out the washing, difficulty turning over in bed at night.
These are all examples of inflammation that you can feel. When you have inflammation that you can feel, you can guarantee that you have inflammation that you can't feel.
For example, in the blood vessels or the liver, lungs, or heart etc. Where we don't have pain, this is systemic inflammation and this is the engine that drives many of the most feared illness of middle and old age.
How does inflammation affect Adult Stem Cells?
It prevents adult stem cells from properly identifying the tissues that are in need of repair.
Other common benefits people report:
Reduces discomfort
Increases mobility
Helps to balance whole body inflammation
Promotes health
Increases energy
Improves repair
Easier to turn your head and back the car
Easier to lift arms above head
Easier to turn over in bed at night
Improved sleep
Cyactiv is a patented extract of spirulina standardized to phycocyanin content of greater than 30%. Phycocyanin acts in synergy with other compounds present in the extract, in order to calm and balance whole body inflammation.
Cyactiv is a spirulina-based food supplement produced by a unique filtration process that enables the concentration of phycocyanin.
The extraction process to produce Cyactiv is exclusively water based and does not include any solvent or synthetic compound. The concentration of phycocyanin is > 30%. Cyactiv is on average 4 times more concentrated in phycocyanin than standard spirulina. The drying process is carried out at low temperature to preserve all the nutritional properties of Cyactiv.
The filtration process and drying steps are patented and exclusive to Cerule, resulting from many years of research and development. This expertise enables the company to control the process from the raw material to the finished product, setting up high quality control standards at all steps of the process.
The benefits of consuming Cyactiv have been assessed in three different clinical studies, which have been published in peer-reviewed journals (Jensen et al., 2016a ; Jensen et al., 2016b ; Jensen et al., 2015).
---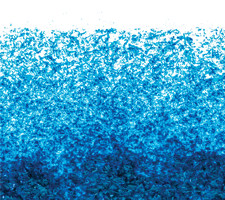 Cyactiv®
Arthrospira platensis, also known as spirulina, is a blue-green algae like AFA (Aphanizomenon flos aquae). It provides a wide variety of micronutrients and macronutrients and contains specific active compounds such as phycocyanin, which constitutes the blue pigment of blue-green algae.
Spirulina is cultivated and harvested in sunny regions of the world such as the United States, Greece, Spain, Japan and India (Karkos et al., 2011). It is well known for its nutritional richness in macro and micronutrients. It is composed of more than 60% proteins and 14% of carbohydrates. It is a good source of polyunsaturated fatty acids, essential amino acids, and micronutrients such as Iron, Calcium, Magnesium, Phosphorus and Selenium. It is used in nutritional supplementation all over the world.
Spirulina is a good source of phenolic compounds and beta carotenes, which represent two categories of antioxidants. It supports the immune system (Finamore et al., 2017) and helps maintain vitality.
After more than 2 decades of experience in aquatic agriculture and harvesting, Cerule has become an expert in the production of exclusive and unique extracts. Recently, Cerule has extended its production capacities to transform spirulina in order to isolate phycocyanin and other active compounds present in spirulina.
---
ADDITIONAL INFORMATION
Does not contain dairy, gluten, artificial aromas, preservatives or coloring agents. Capsule exclusively composed of ingredient from vegetable origin.
Suitable for vegetarian consumers.
Cerule has no knowledge of any contraindications with regards to the consumption of Cyactiv during / while pregnancy or breastfeeding. However, as a precaution, we advise that you consult your physician.
Cerule has no knowledge of any contraindications or interactions between Cyactiv and other medication. However, if you are taking prescription drugs or if your health requires medical attention, we advise that consult your physician.
Backed by Science
Cyactiv is a proprietary phycocyanin extract from Spirulina. Phycocyanin is the blue pigment in blue-green algae and is a potent, active compound, proven to help balance and calm systemic inflammation associated with a myriad of health issues. Balancing whole-body inflammation assists the homing of stem cells to affected tissues.*
---
Our Point of Difference
Our cutting-edge products are backed by science
Our flagship products have been studied in multiple third-party independent clinical trials that document their health benefits. Our Research & Development team has pioneered many advancements in nutritional science, including the revolutionary discovery and development of the world's first stem cell enhancer: StemEnhance. We hold several patents on StemEnhance, which remains the most studied and clinically proven stem cell support product on the market and is only available through Cerule.
Research & Development (R&D) Team
Led by world-renowned scientist and research consultant Dr. Gitte Jensen, Cerule's R&D team has earned global recognition for its significant contributions in many areas of nutraceutical science. R&D oversees the development and formulation of our premium-quality products and is responsible for keeping Cerule on the cutting-edge of scientific advancements. R&D also prepares and oversees all clinical trials conducted to document and prove the efficacy of Cerule's products.
Total control process = better quality products for you
Cerule currently manufactures three key ingredients, StemEnhance, Cyactiv, and Mesenkine, that constitute the core of two of its three signature products. This means that Cerule controls the process every step of the way, ensuring the premium quality that consumers have come to expect and trust. The ingredients we do not grow or harvest ourselves come from the industry's most reputable, GMP-certified companies. All ingredients, including Cerule's own, undergo rigorous quality testing in-house with third-party verification. The ingredients in all of our products are guaranteed for their purity and safety.
---
REFERENCES
Finamore A., Palmery M., Bensehaila S., Peluso I., 2017, Antioxidant, Immunomodulating and Microbial-Modulating activities of the Sustainable and Eco Friendly Spirulina, Oxidative Medicine and Cellular Longevity, 3247528:1-14.
Jensen G.S., Attridge V., Carter S.G., Guthrie J., Ehmann A., Benson K.F., 2016a, Consumption of an aqueous cyanophyta extract derived from Arthrospira platensis is associated with reduction of chronic pain: results from two human clinical pilot studies, Nutrition and Dietary Supplements, 8:65-70.
Jensen G.S., Drapeau C., Lenninger M., Benson K.F., 2016b, Clinical Safety of a High Dose of Phycocyanin-Enriched Aqueous Extract from Arthrospira (Spirulina) platensis: Results from a Randomized, Double-Blind, Placebo-Controlled Study with a Focus on Anticoagulant Activity and Platelet Activation, Journal of Medicinal Food, 19(7):1-9.
Jensen G.S., Attridge V., Beaman J.L., Guthrie J., Ehmann A., Benson K.F., 2015, Antioxidant and Anti-Inflammatory Properties of an Aqueous Cyanophyta Extract Derived from Arthrospira Platensis: Contribution to Bioactivities by the Non-Phycocyanin Aqueous Fraction, Journal of Medicinal Food, 18(5):535-541.
Karkos P.D., Leong S.C., Karkos C.D., Sivaji N., Assimakopoulos D.A., 2011, Spirulina in clinical practice: evidence-based Human Applications, Evidence-Based Complementary and Alternative Medicine, 531053:1-4
Cyactiv FAQs
Why is Cyactiv beneficial?
Cyactiv supports a healthy lifestyle and overall wellness through:
Inflammation modulation*
Balancing a healthy inflammation response, helping to maintain systemic inflammation within the normal range*
Supports the ability of adult stem cells to find and rejuvenate tissues in need of renewal*
Antioxidant protection*
Neutralizing existing free radicals*
Providing cellular protection against the formation of new oxidative stress*.
Will I notice a difference?
During clinical trials, a noticeable change was noted as early as three days. Overall significant changes were observed and reported within three weeks of usage with continued improvement over time. Health benefits can vary greatly from one person to another.
Can Cyactiv be used with Cerule supplements (PlasmaFlo and StemEnhance ULTRA) or with other supplements?
Yes, all Cerule products can be consumed together and have been created to act in synergy for optimal wellness. Cerule has no knowledge of any contraindications or interactions between Cyactiv and any other supplements.
Can pets consume Cyactiv?
Cyactiv is formulated for human consumption. We know of no reason that it may be harmful to pets. Spirulina has been used in the pet nutrition industry for years. However, we have done no studies using the products for pet consumption. Please check with your veterinarian.
What is the capsule made from?
The vegetarian capsule is made from Hypromellose. Hypromellose is cellulose derivative or plant fiber.
Is Cyactiv Kosher or Halal?
Cyactiv's ingredients are both Kosher and Halal certified.
Is Cyactiv safe to consume over a long period of time?
A safety study confirmed that consumption of Cyactiv was not associated with any sideeffects, including negative effects on the stomach, heart, kidney, or liver function. Cyactiv® safely and effectively helps to support a healthy inflammation response, reduce systemic inflammation, discomfort, and inhibit free radicals.
Are there any known nutrient-medication interactions?
We know of no potential interaction between Cyactiv and any medication. If you have any health conditions and/or are using other medication, then consult your attending health care provider before consuming any nutritional supplement.
For some people, due to their conditions and medications, they need to manage their intake of certain nutrients. Below are the amounts of naturally occurring nutrients found in the plant based ingredients within Cyactiv.
Iron – 0.40 mg per two capsules
Iodine – 1.09 mg per two capsules
Sodium – 14 mg per two capsules
Why does the Cyactiv label state "consult your physician if you are pregnant or nursing"?
Pregnancy and nursing present unique circumstances. We recommend that your attending doctor(s) be made aware of any and all supplements consumed during this time. At this time, we do not advise Cyactiv consumption during pregnancy.
Cyactiv® REVIEWS
---
"I have never been able to touch my toes with ease... even when I was a kid. Now, since I have been taking Cyactiv I can lay the backs of my knuckles on the floor! Amazing!"
---
"Cyactiv is unique, I have no creaks, and I am not weak, whatever is in this has changed my life dramatically, for the better!"
---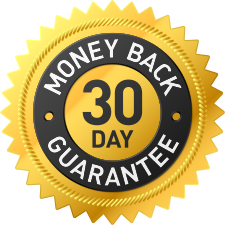 TRY CERULE RISK FREE!!!
Didn't see the results you expected from Cerule? You're covered by our 30 day money back guarantee. If you are unhappy with your purchase, please return merchandise and receive a full product refund for your order less tax, shipping and processing.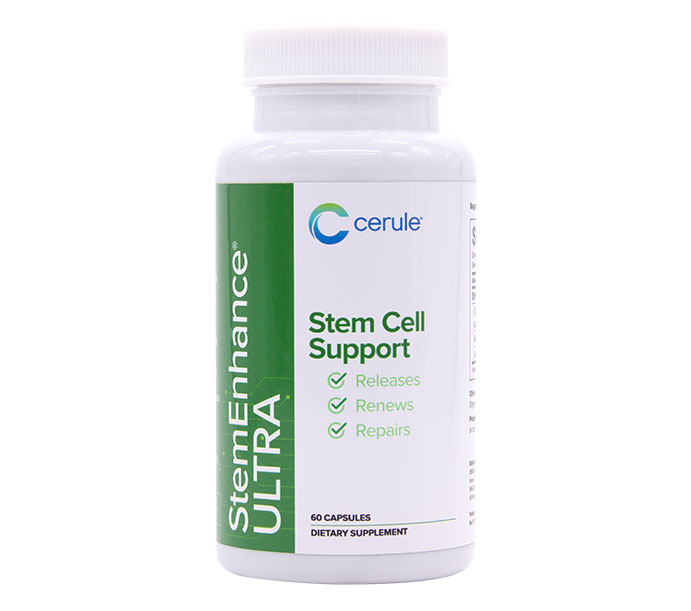 Completely reverse the signs of aging - StemEnhance ULTRA is the ultimate in stem cell support containing a proprietary blend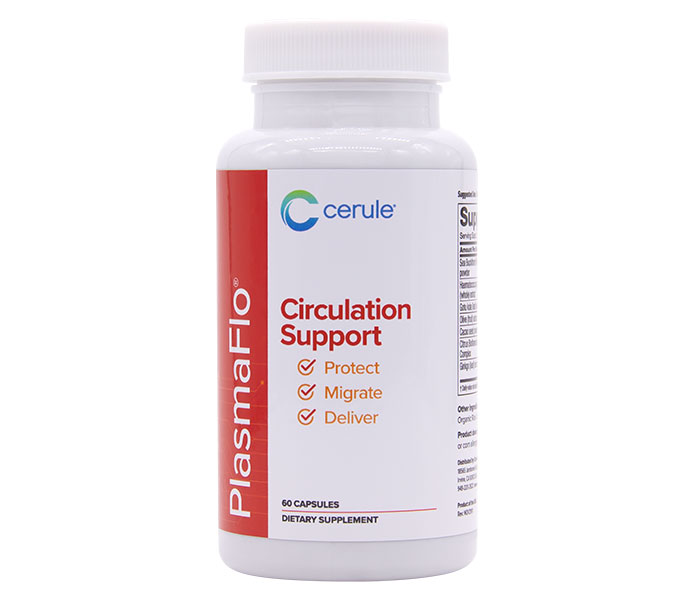 Regulate optimum blood flow - PlasmaFlo is an exclusive formula containing a proprietary blend of proteolytic and fibrinolytic enzymes
AFA Regenerating Night Cream
Reverse the signs of aging and look younger - The first of its kind, AFA Regenerating Night Cream assists the skin in the process of cell renewal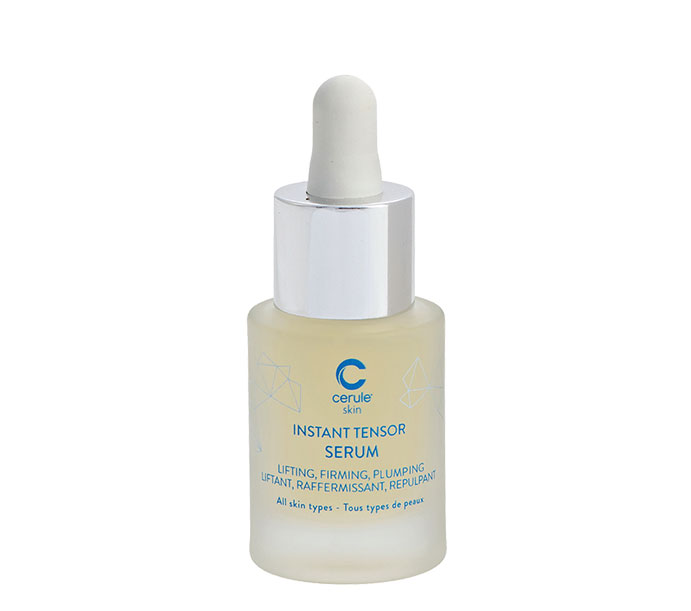 Facelift in a bottle - Instant Tensor Serum is a natural concentrated anti-aging skincare, suitable for all skin types.
*These statements have not been evaluated by the Food and Drug Administration.
This product is not intended to diagnose, treat, cure or prevent any disease.