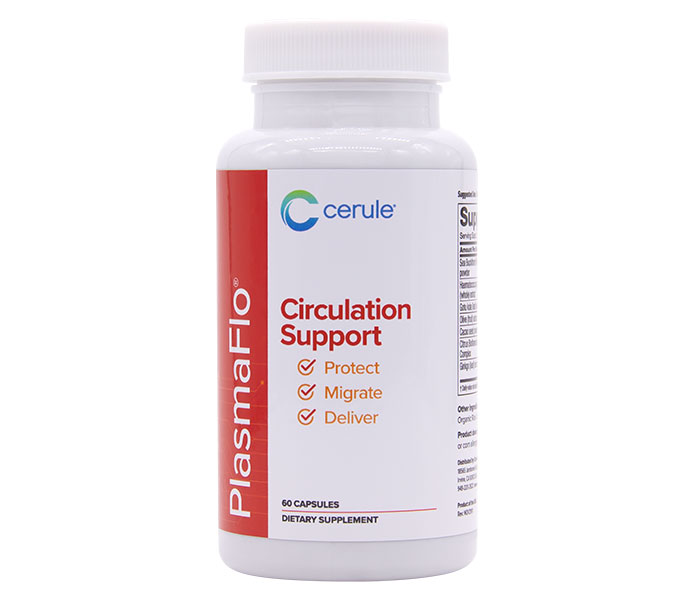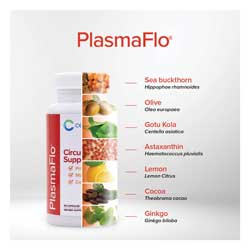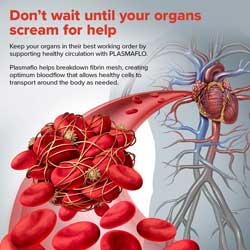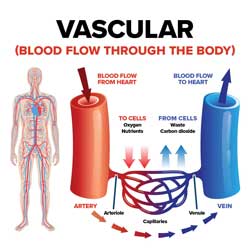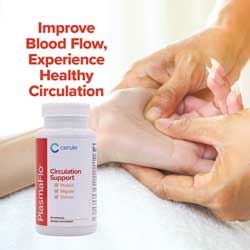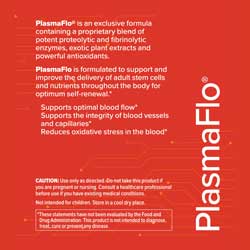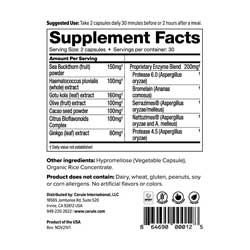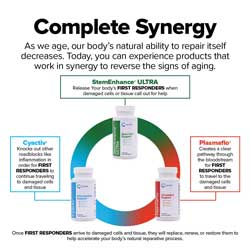 support optimum blood flow
PlasmaFlo

®
60 Capsules | 30 Day Supply
Big Savings: as low as $57 per bottle!
---
Best Savings: as low as $60 per bottle!
---
Best Savings: for your monthly supply
Join Cerule as a Preferred Customer to enjoy discounted pricing for as low as $58 with a monthly AutoShip.
All AutoShip orders come with FREE SHIPPING and can be personalized with products of your choice. Want to SAVE even more? Set up a personalized Wellness Pack AutoShip of 3, 4, or 6 bottles. Never worry about running out of product!
Shop Wellness Packs
Join Cerule as an Independent Business Owner (IBO) to enjoy wholesale pricing for as low as $58 with a monthly AutoShip.
You will start earning commissions, bonuses, incentives, all-expense-paid trips, and more by simply referring Cerule products to others.
Become A Member
Protect | Supports the integrity of blood vessels and capillaries*

Migrate | Supports optimal blood flow*

Deliver | Reduces oxidative stress in the blood*
Why is PlasmaFlo Important?
The human body's ability to renew itself is remarkable. Proper blood circulation at the capillary level is essential to ensure appropriate delivery of nutrients, oxygen, and cells to the body to assist daily renewal. Capillaries make up the vast majority of the total surface area of all blood vessels, extending into every region of the body, where they serve as points of exchange between the blood and surrounding tissue. The body's natural ability to deliver nutrients, oxygen and cells is dependent on the health and integrity of capillary function.*
PlasmaFlo is an exclusive formula containing a proprietary blend of potent proteolytic and fibrinolytic enzymes, exotic plant extracts and powerful antioxidants.*
PlasmaFlo is formulated to support and improve the delivery of adult stem cells and nutrients throughout the body for optimum self-renewal.*
Product Education: Vascular System
What is the Vascular System?
The Vascular System is the system of blood vessels that carry blood throughout the body.
What is Microcirculation?
Microcirculation is the circulation of the blood in the smallest blood vessels which are the capillaries and venules. The main function of the microcirculation is the transport of the red blood cells to the body at a cellular level. Red blood cells deliver oxygen and nutrients and then remove CO2 and waste products. It is in the microcirculation that the adult stem cells move from the bloodstream into the body.
Why do we need to support microcirculation?
To optimize red blood cell and stem cell transport.
Studies have shown that by the age of 29 most people have significant fibrin levels that reduce the effectiveness of the microcirculation.
Other common benefits people report:
Warmer hands and feet
Ability to exercise better
Faster recovery
More energy
PlasmaFlo is an exclusive blend of fibrinolytic enzymes, plant extracts and antioxidants.
---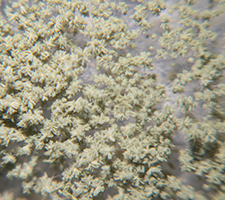 Proprietary Enzyme Blend
Aspergillus oryzae is a microorganism traditionally used since Antiquity for the fermentation of various products, such as sake and miso. When this microogranism is cultivated on very specific nutritional sources, it produces fibrinolytic enzymes.
---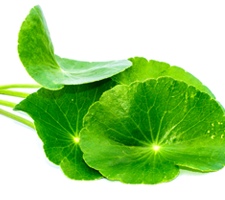 Gotu Kola
Centella asiatica, whose popular name is Gotu Kola, has been considered for centuries as a panacea in Chinese and Ayurevdic medicine. This plant is widely utilized in South-East Asia, India, Malaysia, and Sri Lanka. Gotu Kola leaves are part of salad recipes or they are cooked as a vegetable, along with sweet potatoes and coconut. It is part of Sri Lanka's traditional breakfast. The leaves are the main part used in traditional medicine (Chandrika & Kumarab, 2015). They are rich in triterpenes, the main active molecule, but they are also a good source of carotenoids and flavonoids, two categories of antioxidants. The leaves are also a source of saponins, a sub-category of triterpenes, which are well documented to have several health benefits (Hashim et al., 2011). Our Gotu Kola extract is standardized to 10% saponins. Centella asiatica supports peripheral blood circulation and vein health.
---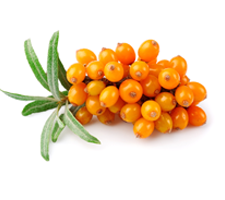 Sea buckthorn
Hippophae rhamnoides: Sea buckthorn is a thorny shrub, which comes from temperate zones of Europe and Asia (Olas et al., 2016). Berries selected for Plasmaflo are native from the high Tibetan plateau and are certified "organic." Sea buckthorn contains 190 active compounds, such as several vitamins (A, C, & E mainly), amino acids, minerals and omega 3. Berries are rich in vitamin C, whose concentration reaches 1.2g/100g in the extract selected for Plasmaflo. As a consequence, sea buckthorn is 24 times more concentrated in vitamin C than oranges.
---
Cocoa
Theobroma cacao: Cocoa bean is the seed that resides in the fruit of the cocoa crop. Fermentation and roasting of cacao are crucial steps in the production of cocoa. Nevertheless, as a raw ingredient, cocoa bean displays an exceptional profile in nutrients and antioxidants such as flavanols. The extract is certified "organic" and is produced without the use of any solvent or artificial additives.
---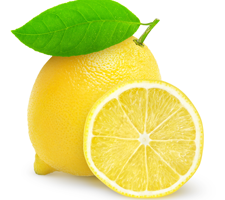 Lemon
Lemon Citrus has numerous properties. Its content in flavonoids and other potent antioxidants is such that it is widely used not only as common food, but it also enters in the composition of soaps and cosmetics. Lemon skin is rich in hesperidin, which is one type of flavonoids (Dobias et al., 2016). The selected extract is standardized to 40% of hesperidin.
---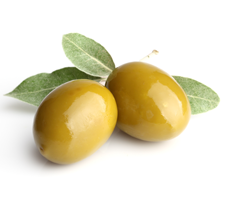 Olive
Olea europea: While olive and particularly olive oil have been traditionally used since antiquity as food, they have many biological properties. Olive is rich in anthocyanidins and polyphenols such as oleuropein and hydroxytyrosol. Olives used to produce our extract come from Spain where they are cultivated and harvested according to traditional customs and environment-friendly agriculture, without pesticides and herbicides. The extract is titrated at 10 % of hydroxytyrosol, a highly bioavailable and antioxidant compound present in olive (Zrelli et al., 2015).
---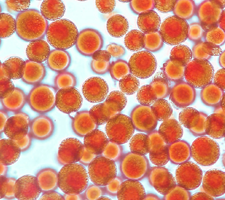 Astaxanthin
Haematococcus pluvialis: Astaxanthin is a carotenoid that is not a precursor of vitamin A. It constitutes the pink or reddish pigment of shellfish, salmon, and trout. Astaxanthin is a powerful antioxidant (Abdelzaher et al., 2016) also naturally present in a micro-algae called Haematococcus pluvialis. Astaxanthin from Haematococcus pluvialis is standardized at 2%.
---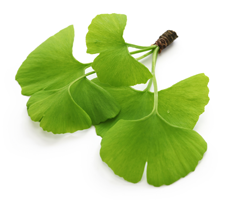 Ginkgo biloba
Ginkgo biloba: Native from China where fossilized trees have been found dating back to more than 270 million years, it has been widely used in Chinese traditional medicine for its multiple health benefits and as a symbol of longevity (Singh et al., 2008). The leaves are the part of plants that have been mostly used in traditional medicine. They are rich in flavone glycosides, lactone terpenes and bilobalide, which constitute the three main active molecules in the ginkgo leaves (Ude et al., 2013 ; Singh et al., 2008). In our extract these components have been standardized to 24% flavone glycosides, 6% lactones terpenes and 2.5% bilobalide. Gingko biloba contributes to a normal blood micro-circulation (capillaries).
---
ADDITIONAL INFORMATION
Does not contain dairy, gluten, artificial aromas, preservatives or coloring agents. Capsule exclusively composed of ingredients from vegetable origin.
Suitable for vegan and vegetarian consumers.
Cerule has no knowledge of any contraindications to consume PlasmaFlo in case of pregnancy or breastfeeding. However, as a precaution, we advise that you consult your physician.
While Cerule does not have knowledge of contraindications, proteolytic compounds are known to have anticoagulant properties. People who suffer from clotting disorders or who are on anticoagulant medications (often called "blood thinners") should consult their health care providers prior to taking PlasmaFlo.
Backed by Science
The ingredients in PlasmaFlo were extensively researched and meticulously chosen from the industry's most reputable, GMP certified companies and are backed by science for their efficacy and safety. All ingredients, including Cerule's own, undergo rigorous quality testing in-house with 3rd party verification. The ingredients in all of our products are guaranteed for purity and safety. PlasmaFlo was formulated to support healthy circulation.*
---
Our Point of Difference
Our cutting-edge products are backed by science
Our flagship products have been studied in multiple third-party independent clinical trials that document their health benefits. Our Research & Development team has pioneered many advancements in nutritional science, including the revolutionary discovery and development of the world's first stem cell enhancer: StemEnhance. We hold several patents on StemEnhance, which remains the most studied and clinically proven stem cell support product on the market and is only available through Cerule.
Research & Development (R&D) Team
Led by world-renowned scientist and research consultant Dr. Gitte Jensen, Cerule's R&D team has earned global recognition for its significant contributions in many areas of nutraceutical science. R&D oversees the development and formulation of our premium-quality products and is responsible for keeping Cerule on the cutting-edge of scientific advancements. R&D also prepares and oversees all clinical trials conducted to document and prove the efficacy of Cerule's products.
Total control process = better quality products for you
Cerule currently manufactures three key ingredients, StemEnhance, Cyactiv, and Mesenkine, that constitute the core of two of its three signature products. This means that Cerule controls the process every step of the way, ensuring the premium quality that consumers have come to expect and trust. The ingredients we do not grow or harvest ourselves come from the industry's most reputable, GMP-certified companies. All ingredients, including Cerule's own, undergo rigorous quality testing in-house with third-party verification. The ingredients in all of our products are guaranteed for their purity and safety.
---
REFERENCES
Abdelzaher L.A., Imaizumi T., Suzuki T., Tomita K., Takashina m., Hattori Y., 2016, Astaxanthin alleviates oxidative stress insults-related derangements in human vascular endothelial cells exposed to glucose fluctuations, Life Sciences, 150:24-31
Chandrika U.G., Kumarab P.P., 2015, Gotu Kola (Centella asiatica): Nutritional Properties and Plausible Health Benefits, Advances in Food and Nutrition Research, 76:125-157
Dobias L., Petrova M., Vojtko R., Kristova V., 2016, Long-term Treatment with Hesperidin Improves Endothelium-dependent Vasodilation in Femoral Artery of Spontaneously Hypertensive Rats: The Involvement of NO synthase and Kv Channels, Phytotherapy research, 30(10):1665-1671
Hashim P., Sidek H., Helan M.H.M., Sabery A., Palanisamy U.D., Ilham M., 2011, Triterpene composition and Bioactivities of Centella asiatica, Molecules, 16:1310-1322
Olas B., 2016, Sea buckthorn as a source of important bioactive compounds in cardiovascular diseases, Food and Chemical Toxicology, 97:199-204
Singh B., Kaur P., Gopichand, Singh R.D., Ahuja P.S., 2008, Biology and chemistry of Gingko biloba, Fitoterapia, 79:401-418
Ude C., Schubert-Zsilavecz M., Wurglics M., 2013, Ginkgo biloba Extracts: A Review of the Pharmacokinetics of the Active Ingredients, Clin Pharmacokinet, 52(9):727-49
Zrelli H., Kusunoki M., Miyazaki H., 2015, Role of Hydroxytyrosoldependent Regulation of HO-1 Expression in Promoting Wound Healing of Vascular Endothelial Cells via Nrf2 De Novo Synthesis and Stabilization, Phytotherapy Research, 29(7):1011-18
Plasmaflo FAQs
What does Plasmaflo do?
Formulated to support the integrity of capillaries and improve the flowing properties of blood, Plasmaflo® helps the delivery of vital nutrients, oxygen, and adult stem cells throughout the entire body for optimum health.*
Can Plasmaflo be consumed with other Cerule products and other nutrients?
Yes, the Cerule products can be consumed together and were designed to enhance the beneficial effects of each other. We know of no known complications or interaction between the Cerule products and other nutritional supplements.
How do I take Plasmaflo?
To obtain the optimal benefit from the enzymes, it is recommended to take 2 capsules daily (on an empty stomach), 30 minutes before or two hours after a meal.
Can pets consume Plasmaflo?
Plasmaflo is formulated for human consumption. We know of no reason that it may be harmful to pets. However, we have done no studies using the products for pet consumption. Please check with your veterinarian.
What happens if I take Plasmaflo with food?
It is estimated that 10 – 12% of the effectiveness of the fibrinolytic enzymes will be lost through aiding the digestion of the food
Are there any known medication interactions with Plasmaflo?
If you have any health conditions and/or are using a medication, then consult your attending health care provider before consuming any nutritional supplement.
Proteolytic compounds are known to have anticoagulant properties. People who suffer from clotting disorders or who are on anticoagulant medications (often called "blood thinners") should consult their health care providers prior to taking Plasmaflo®. For some people, due to their conditions and medications, they need to manage their intake of certain nutrients. Below are amounts of naturally occurring nutrients found in the plant based ingredients within Plasmaflo:
Iron – 0.12 mg per two capsules
Sodium – 16 mg per two capsules
Why does the Plasmaflo label state "consult your physician if you are pregnant or nursing"?
Pregnancy and nursing present unique circumstances. We recommend that your attending doctor(s) be made aware of any and all supplements consumed during this time. At this time, we do not advise Plasmaflo consumption during pregnancy.
PlasmaFlo Reviews
---
"No more cold feet and toes, it must be due to PlasmaFlo"
---
"I already take StemEnhance ULTRA and I now also take PlasmaFlo. I feel like this combination has enhanced my already great results"
---
Personally, I can't say enough about Our products! They're simply a cut above the Best! I especially love Our Flagship product, StemEnhance ULTRA, along with it's original companion PlasmaFlo. For the past 14 years, I've had the privilege of enjoying the amazing benefits of this Primordial Food! I cannot envision a life without AFA! It has truly been a life changer without a doubt! I LOVE CERULE!
---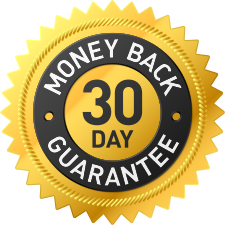 TRY CERULE RISK FREE!!!
Didn't see the results you expected from Cerule? You're covered by our 30 day money back guarantee. If you are unhappy with your purchase, please return merchandise and receive a full product refund for your order less tax, shipping and processing.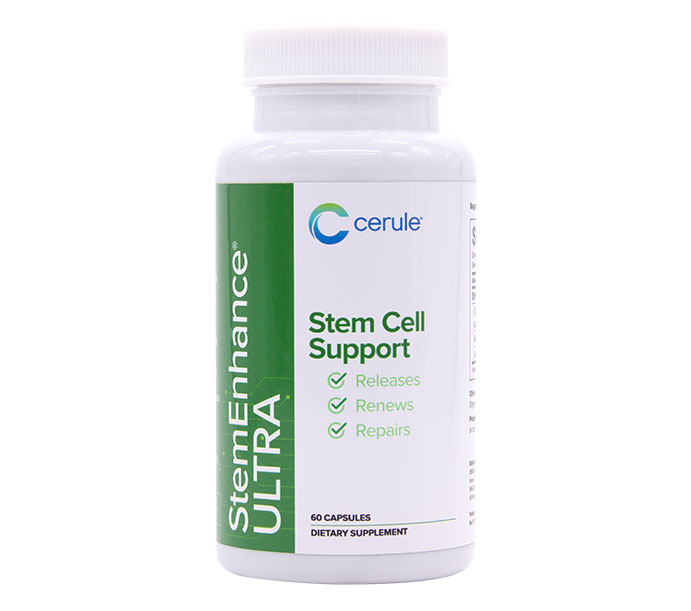 Completely reverse the signs of aging - StemEnhance ULTRA is the ultimate in stem cell support containing a proprietary blend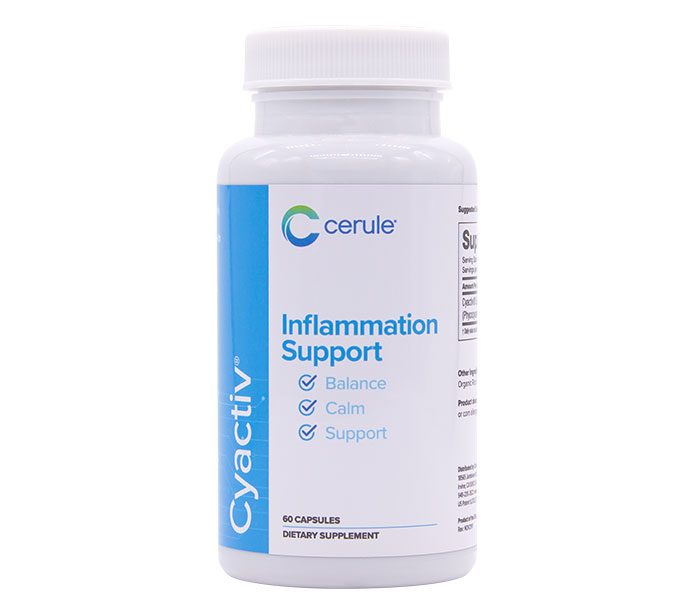 Balance and calm whole-body inflammation - Cyactiv is a proprietary formula proven to reduce systemic inflammation that has been associated with a myriad of health issues
AFA Regenerating Night Cream
Reverse the signs of aging and look younger - The first of its kind, AFA Regenerating Night Cream assists the skin in the process of cell renewal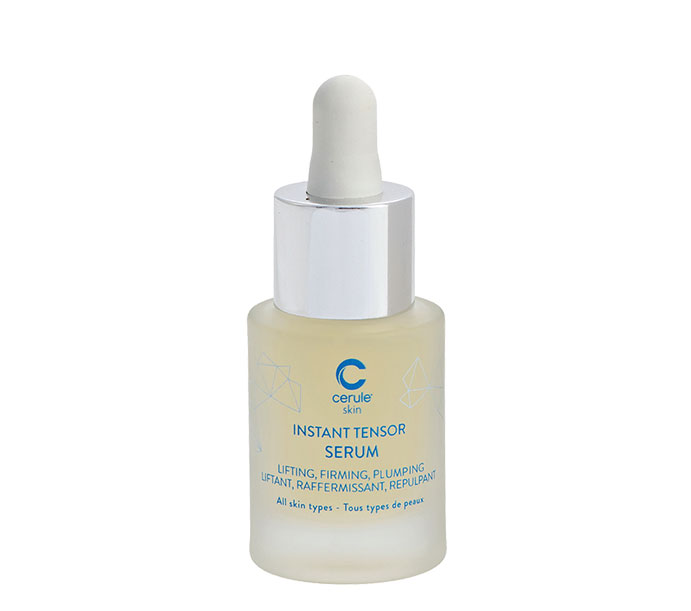 Facelift in a bottle - Instant Tensor Serum is a natural concentrated anti-aging skincare, suitable for all skin types.
*These statements have not been evaluated by the Food and Drug Administration.
This product is not intended to diagnose, treat, cure or prevent any disease.