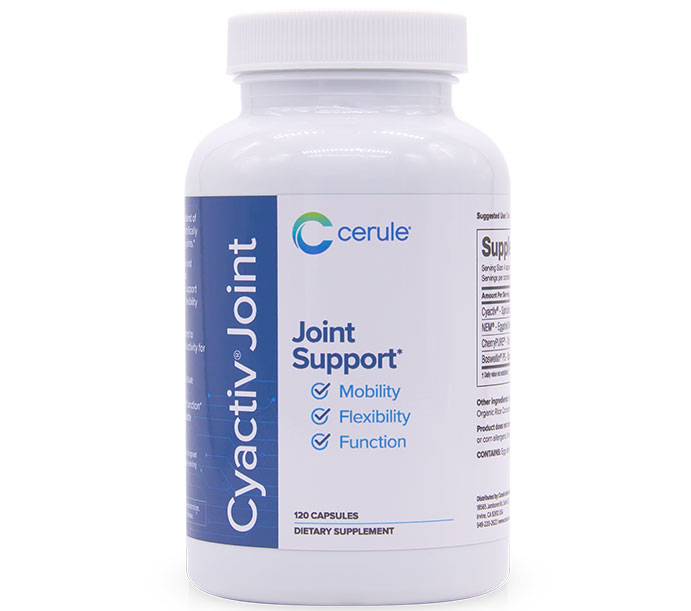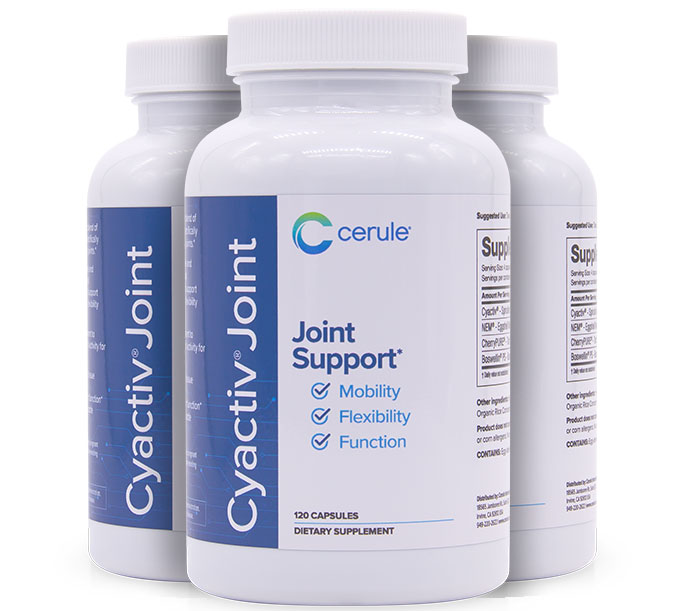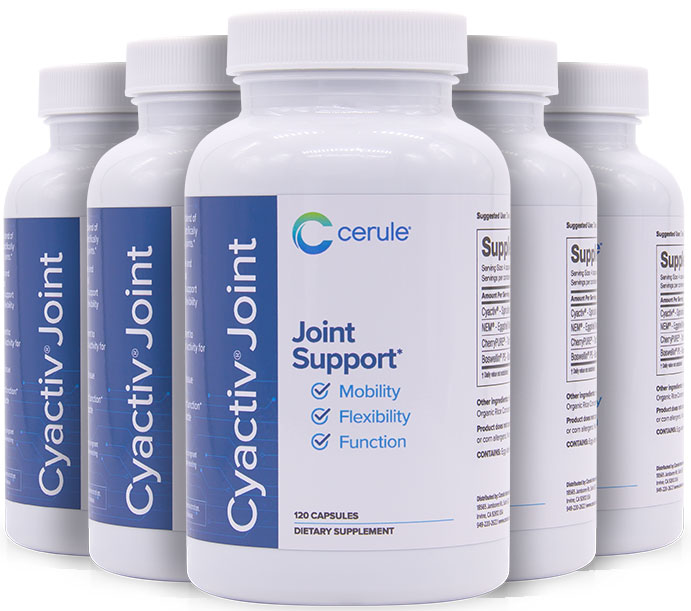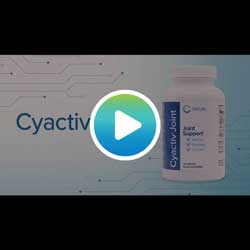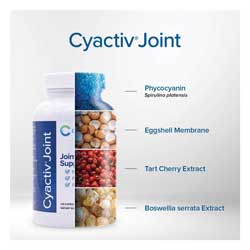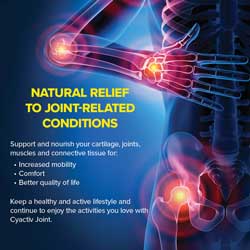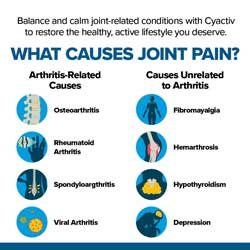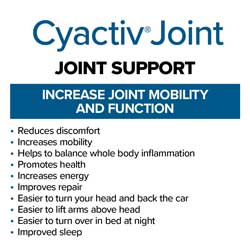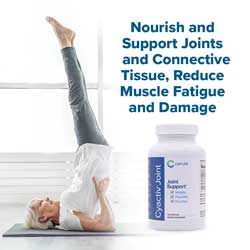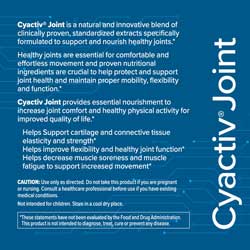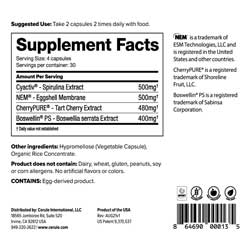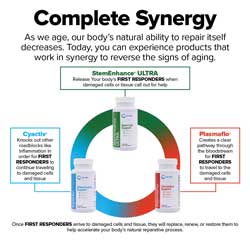 Increase joint mobility and function
Cyactiv

®

Joint
120 Capsules | 30 Day Supply
Big Savings: as low as $66 per bottle!
---
Best Savings: as low as $62 per bottle!
---
Best Savings: for your monthly supply
Join Cerule as a Preferred Customer to enjoy discounted pricing for as low as $62 with a monthly AutoShip.
All AutoShip orders come with FREE SHIPPING and can be personalized with products of your choice. Want to SAVE even more? Set up a personalized Wellness Pack AutoShip of 3, 4, or 6 bottles. Never worry about running out of product!
Shop Wellness Packs
Join Cerule as an Independent Business Owner (IBO) to enjoy wholesale pricing for as low as $62 with a monthly AutoShip.
You will start earning commissions, bonuses, incentives, all-expense-paid trips, and more by simply referring Cerule products to others.
Become A Member
Mobility

| Helps support cartilage and connective tissue elasticity and strength.*

Flexibility

| Helps improve flexibility and healthy joint function.*

Function

| Helps decrease muscle soreness and muscle fatigue to support increased movement.*
Why is Cyactiv Joint beneficial?
Healthy joints are essential for comfortable and effortless movement. They constitute the masterpiece of body mobility. Nutritional support can be helpful to protect, maintain, and repair joint function. Cyactiv Joint is a natural and innovative solution composed of clinically proven and standardized extracts. Cyactiv Joint is specifically formulated to support joint comfort and healthy physical activity.
Cyactiv Joint supports and nourishes cartilage, joints, muscles, and connective tissue for increased comfort and quality of life.
Product Education: Joints
What are Joints?
Joints form the connections between bones. They provide support and allow your body to move. Any damage to the joints from disease or injury can interfere with your movement, cause discomfort and stiffness.
What Causes Joint Pain?
Many different conditions can lead to painful joints, including osteoarthritis, rheumatoid arthritis, bursitis, gout, strains, sprains, and other injuries. Joint pain is extremely common. In one national survey, about one-third of adults reported having joint pain within the past 30 days. Knee pain was the most common complaint, followed by shoulder and hip pain, but joint pain can affect any part of your body, from your ankles and feet to your shoulders and hands. As you get older, painful joints become increasingly more common.
Other common benefits people report:
Reduces discomfort
Increases mobility
Helps to balance whole body inflammation
Promotes health
Increases energy
Improves repair
Easier to turn your head when reversing your car
Easier to lift arms above head
Easier to turn over in bed at night
Improved sleep
Cyactiv Joint Ingredients
---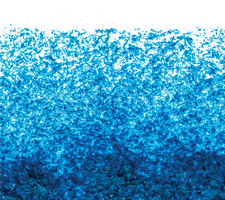 Cyactiv®
Cyactiv is a patented extract of spirulina containing a high concentration of phycocyanin (>30%). is four times more concentrated in phycocyanin than standard spirulina. The extraction step is carried out only with water, without using solvents. Its low-temperature drying process preserves the quality of active compounds. Spirulina has antioxidant and immunostimulant properties, supporting your vitality. Cyactiv has been studied extensively in several clinical studies.
---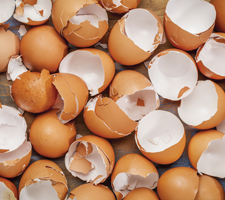 NEM® Eggshell Membrane
NEM Eggshell Membrane is composed of fibrous proteins such as type I collagen, hyaluronic acid, and glycosaminoglycans (GAG), such as chondroitin. They enter the composition of the joint extracellular matrix and are considered the building blocks of joints. This clinically tested extract is standardized in collagen and GAG.
---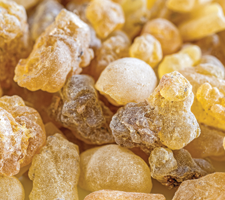 Boswellin® PS Boswellia serrata
Boswellin PS Boswellia serrata Extract (resin) is renowned in Ayurvedic medicine. This part is notably rich in terpenoids. The extract is standardized to 35-50% of Boswellia acids. The presence of polysaccharides increases the solubility and bioavailability of active compounds. Boswellia serrata supports joint and muscle comfort and can be helpful to enhance effort on muscle and joints.
---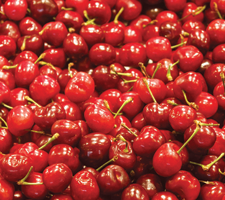 CherryPURE® Tart Cherry Extract
CherryPURE Tart Cherry Extract: is rich in flavonoids and phenolic acids that have antioxidant activity to help reduce oxidative stress. The ingredient selected is clinically tested and standardized to 2% of proanthocyanidins.
---
ADDITIONAL INFORMATION
Does not contain wheat, nuts, soy, corn artificial aromas, preservatives or coloring agents. Capsule exclusively composed of ingredient of vegetal origin.
Contains egg derived product.
Pregnancy and nursing are considered special conditions. We recommend that your attending doctor(s) be made aware of any and all supplements consumed during this time. At this time, we do not advise Cyactiv Joint consumption during pregnancy.
If you have any health condition and/or are using any medication then consult your attending health care provider before consuming any nutritional supplements.
Backed by Science
Each ingredient has been clinically tested at the doses provided in Cyactiv Joint. Cyactiv Joint is formulated to nourish and support cartilage, joints, muscles, and connective tissue. The formula contains compounds that modulate inflammatory enzymes and powerful antioxidant phenolic compounds that reduce muscle fatigue and muscle damage.
---
Our Point of Difference
Our cutting-edge products are backed by science
Our flagship products have been studied in multiple third-party independent clinical trials that document their health benefits. Our Research & Development team has pioneered many advancements in nutritional science, including the revolutionary discovery and development of the world's first stem cell enhancer: StemEnhance*. We hold several patents on StemEnhance*, which remains the most studied and clinically proven stem cell support product on the market and is only available through Cerule.
Research & Development (R&D) Team
Led by world-renowned scientist and research consultant Dr. Gitte Jensen, Cerule's R&D team has earned global recognition for its significant contributions in many areas of nutraceutical science. R&D oversees the development and formulation of our premium-quality products and is responsible for keeping Cerule on the cutting-edge of scientific advancements. R&D also prepares and oversees all clinical trials conducted to document and prove the efficacy of Cerule's products.
Total control process = better quality products for you
Cerule currently manufactures three key ingredients, StemEnhance, Cyactiv, and Mesenkine, that constitute the core of two of its three signature products. This means that Cerule controls the process every step of the way, ensuring the premium quality that consumers have come to expect and trust. The ingredients we do not grow or harvest ourselves come from the industry's most reputable, GMP-certified companies. All ingredients, including Cerule's own, undergo rigorous quality testing in-house with third-party verification. The ingredients in all of our products are guaranteed for their purity and safety.
---
REFERENCES
Spirulina extract
Jensen G., Attridge V., Beaman J., Guthrie J., Ehmann A., Benson K., 2015, Antioxidant and anti-inflammatory properties of an aqueous cyanophyta extract derived from Arthrospira platensis: contribution to bioactivities by the non phycocyanin aqueous fraction, Journal of Medicinal Food, 18(5):535-541.
Jensen G., Attridge V., Carter S., Guthrie J., Ehmann A., Benson K., 2016, Consumption of an aqueous cyanophyta extract derived from Arthrospira platensis is associated with reduction of chronic pain: results from two human clinical pilot studies, Nutrition and Dietary Supplements, 8:65-70.
Jensen G., Drapeau C., Lenninger M., Benson K., 2016, Clinical Safety of a High Dose of Phycocyanin-Enriched Aqueous Extract from Arthrospira (Spirulina) platensis: Results from a Randomized, Double-Blind, Placebo-Controlled Study with a Focus on Anticoagulant Activity and Platelet Activation, Journal of Medicinal Food, 19(7): 1-9.
Eggshell membrane
Benson K., Ruff K., Jensen G., 2012, Cultures of Peripheral Blood Mononuclear Cells: Increased Suppression of Tumor Necrosis Factor-a Levels After In-Vitro Digestion, J Med Food 15 (4) 2012, 360–368
Ruff K., DeVore D., Leu M., Robinson M., 2009, Eggshell membrane: A possible new natural therapeutic for joint and connective tissue disorders. Results from two openlabel human clinical studies, Clinical Interventions in Aging 2009:4 235–240.
Danesch U., Seybold M., et al., 2014, NEM® Brand Eggshell Membrane Effective in the Treatment of Pain Associated with Knee and Hip Osteoarthritis: Results from a Six Center, Open Label German Clinical Study, J Arthritis, 3(3):1-5.
Ruff K., Winkler A., Jackson R. et al., 2009, Eggshell membrane in the treatment of pain and stiffness from osteoarthritis of the knee: a randomized, multicenter, double blind, placebo-controlled clinical study, Clin Rheumatol, 28:907–914.
Tart Cherry powder
Connolly D., McHugh M., Padilla-Zakour O., 2006, Efficacy of a tart cherry juice blend in preventing the symptoms of muscle damage, Br J Sports Med 2006;40:679–683.
Levers K., Dalton R., Galvan E., O'Connor A., et al., 2016, Effects of powdered Montmorency tart cherry supplementation on acute endurance exercise performance in aerobically trained individuals, Journal of the International Society of Sports Nutrition, 13:22
Boswellia serrata extract
Kimmatkar N., Thawani V., Hingorani L., Khiyani R., 2003, Efficacy and tolerability of Boswellia serrata extract in treatment of osteoarthritis of knee--a randomized double blind placebo controlled trial, Phytomedicine, 10(1):3-7
Prabhavathi K., Chandra U., Soanker R., Rani P., 2014, A randomized, double blind, placebo controlled, cross over study to evaluate the analgesic activity of Boswellia serrata in healthy volunteers using mechanical pain model, Indian J. Pharmacol, 46(5):475-479.
Umar S., Umar K., Sarwar A., et al., 2014, Boswellia serrata extract attenuates inflammatory mediators and oxidative stress in collagen induced arthritis, Phytomedicine, 21(6):847-56.https://www.ncbi.nlm.nih.gov/pubmed/24667331
Cyactiv Joint FAQs
What does Cyactiv Joint do?
Formulated to nourish and support cartilage, joints, muscles, and connective tissue, Cyactiv Joint provides optimal nutritional support to promote a healthy and active lifestyle.*
How does Cyactiv Joint support joint health?
Supports cartilage and connective tissue elasticity and strength*
Provides joints with the building blocks they need to build cartilage*
Supports flexibility and strength*
Decreases muscle soreness and fatigue*
Can Cyactiv Joint be consumed with other Cerule products and other nutrients?
Yes, Cerule products can be consumed together and are designed to enhance the beneficial effects of each other. We know of no known complications or interactions between the Cerule products and other nutritional supplements.
Can pets consume Cyactiv Joint?
Cyactiv Joint is formulated for human consumption. We know of no reason that it may be harmful to pets. Spirulina has been used in the pet nutrition industry for years. However, we have done no studies using the products for pet consumption. Please check with your veterinarian.
What is the capsule made from?
The vegetarian capsule is made from Hypromellose. Hypromellose is cellulose derivative or plant fiber.
Why does the Cyactiv Joint label state "consult your physician if you are pregnant or nursing"?
Pregnancy and nursing present unique circumstances. We recommend that your attending doctor(s) be made aware of any and all supplements consumed during this time. At this time, we do not advise Cyactiv Joint consumption during pregnancy.
What is the difference between Cyactiv and Cyactiv Joint?
Cyactiv is a single ingredient formula that contains 30% Phycocyanin (a compound that works as a selective COX-2 inhibitor - a key enzyme involved in inflammation). Cyactiv was formulated to support a healthy inflammation response in the body by modulating key inflammatory enzymes, neutralizing existing free radicals, and providing cellular protection.
Cyactiv Joint is a multi-ingredient formula that contains Cyactiv, developed specifically to support healthy joint function. Cyactiv Joint contains ingredients that support and nourish cartilage, joints, muscles, and connective tissue to support healthy joint mobility, flexibility, and function.
In a nutshell, Cyactiv is formulated to balance whole-body inflammation and Cyactiv Joint is formulated to support healthy joint mobility, flexibility, and function.
Is there a benefit when taking both Cyactiv and Cyactiv Joint together?
A study was performed on Cyactiv at 2.3 grams/day and showed no negative side effects. If a person should choose to take both Cyactiv and Cyactiv Joint, it is important not to exceed the recommended dose of both products 2 capsules per day for Cyactiv and 4 capsules (2 capsules twice daily) for Cyactiv Joint.
If a person wants to take both products, it's recommended 2 capsules of Cyactiv Joint with 1 capsule of Cyactiv be taken with a meal - twice a day.
These products were formulated to support different conditions; one to balance healthy inflammation and the other to support healthy joint function.
In what situation would we suggest Cyactiv Joint, rather than Cyactiv?
We suggest Cyactiv Joint if a person is experiencing Joint discomfort, decreased range of motion, stiffness, swelling around joints etc. Cyactiv Joint is for overall joint health, to help protect and nourish healthy joints.
Cyactiv Joint REVIEWS
---
"I can really feel the difference! I am not taking any over- the-counter medicine ever again, only Cyactiv Joint. So far it's great and I love it!"
---
"I decided to give Cyactiv Joint a go and now I have extraordinary results. I'm very happy with the relief I'm getting and long may it last."
---
"I suffered from knee pains for years, which have practically disappeared since I take Cerule products and I am way less tired. Very useful, honestly."
---
"Many things have changed in my life since I began using Cerule products as a part of my daily sports routine. I suffered from chronic injuries such as tendonitis and joint-related pain that started to disappear quickly. I recover more easily, so I am able to train for longer when I prepare for a race. The results are optimal and my body maintains good shape. Thus, I am always in the best physical condition to compete in sports."
---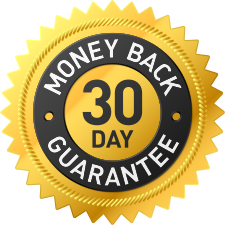 TRY CERULE RISK FREE!!!
Didn't see the results you expected from Cerule? You're covered by our 30 day money back guarantee. If you are unhappy with your purchase, please return merchandise and receive a full product refund for your order less tax, shipping and processing.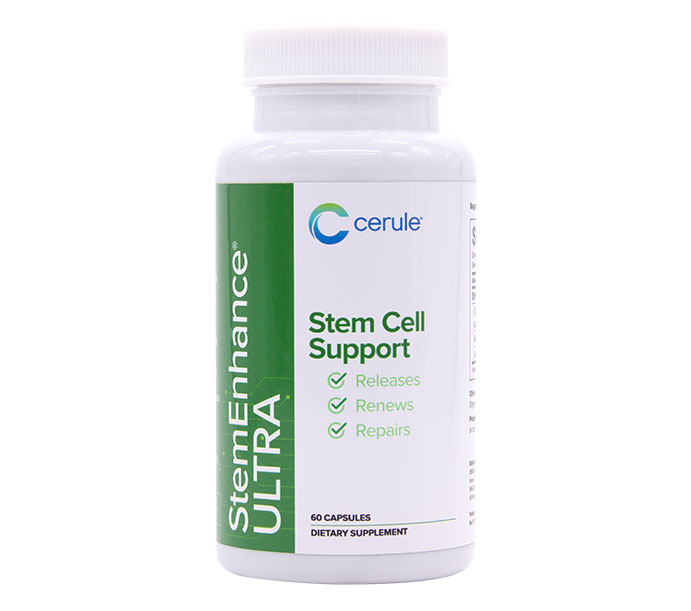 Completely reverse the signs of aging - StemEnhance ULTRA is the ultimate in stem cell support containing a proprietary blend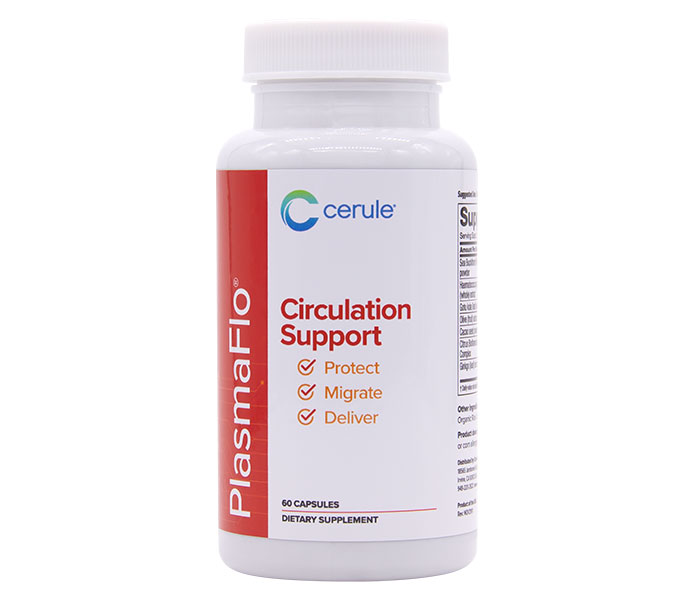 Regulate optimum blood flow - PlasmaFlo is an exclusive formula containing a proprietary blend of proteolytic and fibrinolytic enzymes
AFA Regenerating Night Cream
Reverse the signs of aging and look younger - The first of its kind, AFA Regenerating Night Cream assists the skin in the process of cell renewal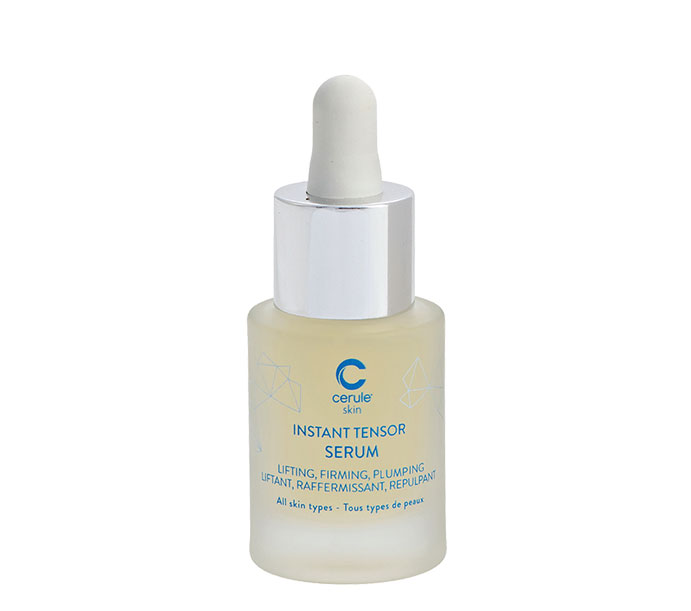 Facelift in a bottle - Instant Tensor Serum is a natural concentrated anti-aging skincare, suitable for all skin types.
*These statements have not been evaluated by the Food and Drug Administration.
This product is not intended to diagnose, treat, cure or prevent any disease.