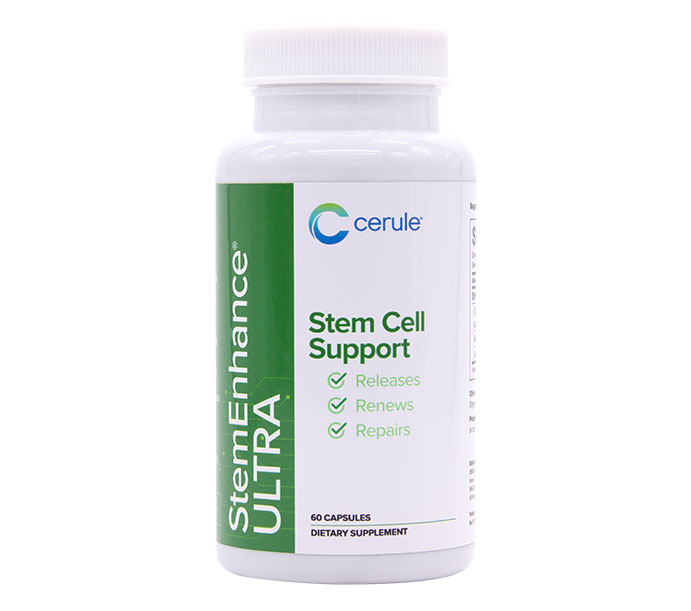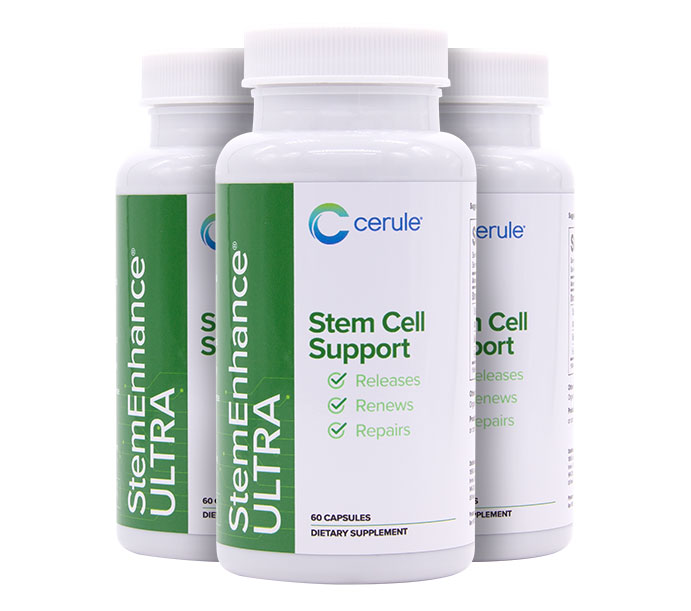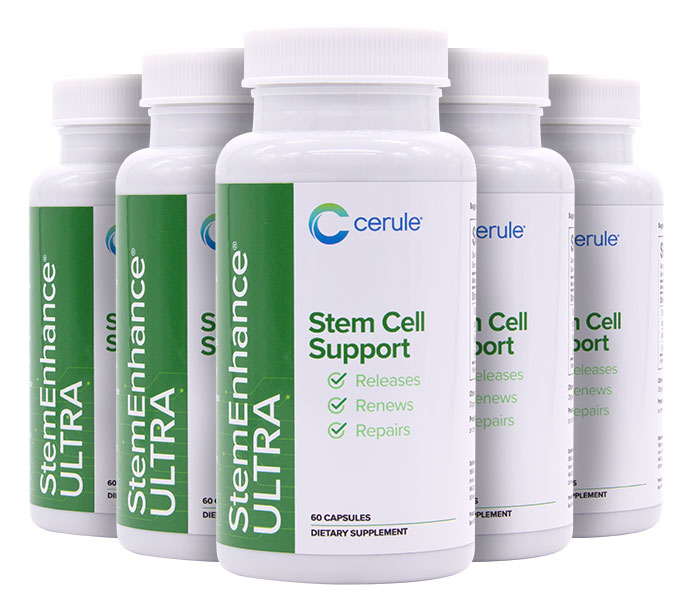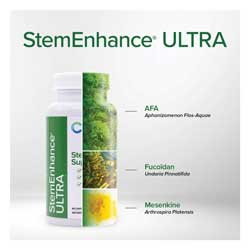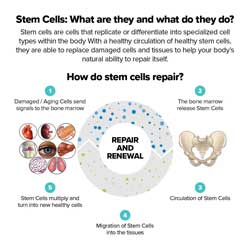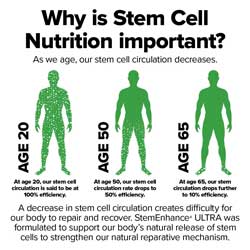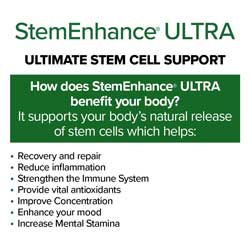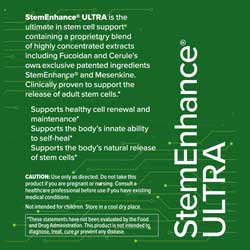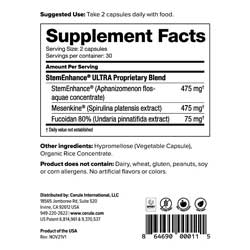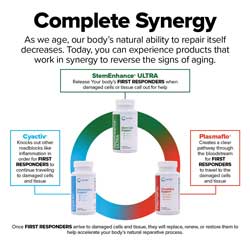 reverse the signs of aging
StemEnhance

®

ULTRA
60 Capsules | 30 Day Supply
Big Savings: as low as $57 per bottle!
---
Best Savings: as low as $60 per bottle!
---
We have two options to help you save more
Join Cerule as a Preferred Customer to enjoy discounted pricing for as low as $59 with a monthly AutoShip.
All AutoShip orders come with FREE SHIPPING and can be personalized with products of your choice. Want to SAVE even more? Set up a personalized Wellness Pack AutoShip of 3, 4, or 6 bottles. Never worry about running out of product!
Shop Wellness Packs
Join Cerule as an Independent Business Owner (IBO) to enjoy wholesale pricing for as low as $59 with a monthly AutoShip.
You will start earning commissions, bonuses, incentives, all-expense-paid trips, and more by simply referring Cerule products to others.
Become A Member
Release | Supports the body's natural release of stem cells.*

Renew | Supports healthy tissue renewal and maintenance.*

Repair | Supports the body's natural ability to self-heal.*
Ultimate Stem Cell Support- Why is Stem Cell Support Important?
Stem cells occur naturally in the body and serve to replenish cells that are lost through normal wear and tear or injury.* As we age, our body's ability to self-repair and maintain optimum health decreases due to a reduction in the number of circulating stem cells associated with the normal aging process. Increasing the number of circulating stem cells is believed to support the body's process of self-repair and self-renewal.*
StemEnhance ULTRA is the ultimate in stem cell support containing a proprietary blend of highly concentrated extracts including Fucoidan and Cerule's own, exclusive, patented ingredients, StemEnhance and Mesenkine®.
Product Education: Adult Stem Cells
WHAT ARE ADULT STEM CELLS?
Undifferentiated cells that multiply by cell division to replenish dying cells and regenerate damaged tissues. (A cell that has yet to develop into a particular cell type) They can become any type of cell (skin, bone, liver, heart, lung for example) and replicate themselves throughout the entire life of an organism.
WHAT DO THEY DO?
Repair & rebuild the body.
WHAT ARE THE BENEFITS OF HAVING MORE ADULT STEM CELLS?
Research shows that a higher number of circulating adult stem cells is one of the most beneficial factors for optimal health.
An increase in the number of adult stem cells gives us more building blocks to repair, recover, and rebuild. Adult stem cell natural release rates from the bone marrow decline as we age.
By 35 years old, the natural stem cell release rate drops by as much as 45%

By 50 years old, the natural stem cell release rate drops by as much as 50%

By 65 years old, the natural stem cell release rate drops by as much as 90%
All of the cells in our body have a limited life span. Some cells live for days, others live for weeks, months, and some for years.
Vitamins, minerals, antioxidants, and good food feed, nourish, and protect our cells. However, no matter how much you feed and protect your cells, they will eventually die off, and it's only your adult stem cells that will replace these dying cells with brand new healthy cells.
StemEnhance ULTRA is made from nature's most primitive superfoods.
StemEnhance ULTRA (SEU) is made from nature's most primitive superfoods. It concentrates and combines extracts from freshwater microalgae and marine macroalgae. Cerule is specialized in the harvest of Aphanizomenon flos aquae (AFA) and the transformation and extraction of both AFA and spirulina through processes that ensure quality from the raw material to the finished product. SEU is the result of more than 10 years of research in the identification and extraction of active molecules, as well as the design of an exclusive drying technology called HydroDry® that preserves the nutritional benefits of algae, (US Patents 6,814,961 & 9,370,537 / EU Patent 1,895,973).
StemEnhance ULTRA is a clinically tested blend of two Cerule patented extracts; StemEnhance from AFA and Mesenkine from Spirulina, as well as Fucoïdan (Undaria pinnatifida). These 3 ingredients work in synergy to support the release of your adult stem cells.
Aphanizomenon flos aquae (AFA) is a blue-green algae that belongs to the cyanobacteria family. It grows naturally in Klamath Lake in Southern Oregon (USA). Cradled in a volcanic region, surrounded by national parks and forests, Klamath lake constitutes a unique ecosystem rich in sediment and minerals that promote and sustain exceptional algal blooms. Thus, AFA provides various essential macronutrients (Pietri A. M., 2011), proteins (>50%) and fibers. It also constitutes a good source of micronutrients:
20 amino acids, characterized by an ideal profile that matches the recommended daily intakes of the 10 essential amino acids
60 minerals and trace elements, rich in calcium (6mg/g) and in iron (0.32mg/g)
14 vitamins, particularly vitamins B1, B2, B12.
It provides several antioxidants including carotenoids, lycopene, and chlorophyll. Moreover, AFA contains PhenylEthylAmine (PEA). This molecule is naturally secreted by the brain and is associated with a sense of wellbeing, it participates to the regulation of mood.
---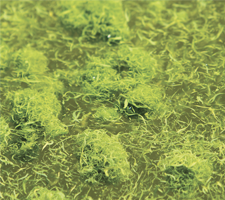 StemEnhance® (Aphanizomenon flos aquae)
StemEnhance contains a L-selectin inhibitor and has been clinically tested to support the mobilization of your adult stem cells. (Jensen et al., 2007). The extract has been extensively studied in several preclinical and clinical studies (Drapeau et al., 2010; Drapeau et al., 2012; Ismail et al. 2013; El Akabawy & El Mehi 2015).
AFA is well known for its nutritional richness in macro and micronutrients. It is composed of more than 60% proteins and 14% carbohydrates. It is a good source of essential polyunsaturated fatty acids, amino acids, and micronutrients such as Iron, Calcium, Magnesium, Phosphorus and Selenium. It is used in nutritional supplementation all over the world. It contains antioxidants and supports the immune system (Finamore et al., 2017).
---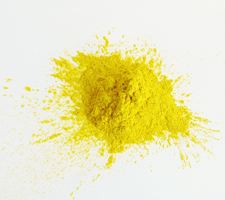 Mesenkine® (Arthrospira Platensis)
While developing Cyactiv® over several years, a low-molecular weight compound called Mesenkine was discovered and isolated from spirulina. The process to extract Mesenkine is patented by Cerule. The studies carried out on Mesenkine show that the extract helps mobilize your adult stem cells.
---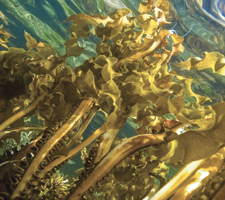 Fucoïdan (Undaria pinnatifida)
Fucoïdan is used in Japanese cuisine under the name Wakame. It is used in salads and miso soup. Undaria pinnatifida is a brown algae traditionally called sea fern. It is grown in several regions of the world but the Wakame selected in SEU comes from the world's most pristine oceanic environments. Undaria pinnatifida helps to protect cells and tissues against damages from oxidative stress, thanks to its richness in polyphenols and fucoxanthin (Fung et al., 2013). This characteristic comes from an adaptive defense mechanism, as seaweeds are exposed to significant sunlight and oxygen.
Marine algae, or seaweeds, are well-known for their content in sulfated polysaccharides that compose their cell wall. The extract selected by Cerule, standardized to 80% of Fucoïdan, was documented to support the mobilization of your adult stem cells (Irhimeh et al., 2007)
---
ADDITIONAL INFORMATION
Does not contain dairy, gluten, artificial aromas, preservatives or coloring agents. Capsule exclusively composed of ingredient from vegetable origin.
Suitable for vegan and vegetarian consumers.
Cerule has no knowledge of any contraindications to consume StemEnhance ULTRA in case of pregnancy or breastfeeding. However, as a precaution, we advise to consult your physician as pregnancy and breastfeeding represent specific health conditions.
Like many green foods, StemEnhance ULTRA contains naturally occurring vitamin K, which could interfere with vitamin K blockers used to thin blood, such as Coumadin. If you have any health condition and/or are using medication, then consult your attending health care provider before consuming any nutritional supplement.
Backed by Science
StemEnhance ULTRA is the result of 18 years of research and constitutes the most efficacious and scientifically proven stem cell support product in the market today. Through multiple clinical trials, StemEnhance ULTRA was documented to optimize stem cell function in the body by increasing the number of both stem cells and Endothelial Progenitor Cells (EPCs) in the blood circulation, supporting optimum renewal. StemEnhance also contains Mesenkine; which was shown to increase the blood concentration of G-CSF that plays a role in stem cell release.
---
Our Point of Difference
Our cutting-edge products are backed by science
Our flagship products have been studied in multiple third-party independent clinical trials that document their health benefits. Our Research & Development team has pioneered many advancements in nutritional science, including the revolutionary discovery and development of the world's first stem cell enhancer: StemEnhance. We hold several patents on StemEnhance, which remains the most studied and clinically proven stem cell support product on the market and is only available through Cerule.
Research & Development (R&D) Team
Led by world-renowned scientist and research consultant Dr. Gitte Jensen, Cerule's R&D team has earned global recognition for its significant contributions in many areas of nutraceutical science. R&D oversees the development and formulation of our premium-quality products and is responsible for keeping Cerule on the cutting-edge of scientific advancements. R&D also prepares and oversees all clinical trials conducted to document and prove the efficacy of Cerule's products.
Total control process = better quality products for you
Cerule currently manufactures three key ingredients, StemEnhance, Cyactiv, and Mesenkine, that constitute the core of two of its three signature products. This means that Cerule controls the process every step of the way, ensuring the premium quality that consumers have come to expect and trust. The ingredients we do not grow or harvest ourselves come from the industry's most reputable, GMP-certified companies. All ingredients, including Cerule's own, undergo rigorous quality testing in-house with third-party verification. The ingredients in all of our products are guaranteed for their purity and safety.
---
REFERENCES
Drapeau C., Antarr D., Ma H., Yang Z., Tang L., Hoffman R. M. & Schaeffer D.J.., 2010, Mobilization of bone marrow stem cells with StemEnhance® improves muscle regeneration in cardiotoxin-induced muscle injury, Cell Cycle, 9:9, 1819- 1823, DOI: 10.4161/cc.9.9.11540
Drapeau C., Eufemio G., Mazzoni P., Roth G., and Strandberg S., 2012 The Therapeutic Potential of Stimulating Endogenous Stem Cell Mobilization, Tissue Regeneration – From Basic Biology to Clinical Application, Chapter 8, 167-202, ISBN: 978-953-51 0387-5
El Akabawy G. & El Mehi A., 2015, Mobilization of endogenous bone marrow-derived stem cells in athioacetamide-induced mouse model of liver fibrosis, Tissue Cell, Volume 47, Issue 3, Pages 257-265
Finamore A., Palmery M., Bensehaila S., Peluso I., 2017, Antioxidant, Immunomodulating and Microbial-Modulating activities of the Sustainable and Ecofriendly Spirulina, Oxidative Medicine and Cellular Longevity, 3247528:1-14.
Fung A., Hamid N., Lu J., 2013, Fucoxanthin content and antioxidant properties of Undaria pinnatifida, Food Chemistry, 136:1055+1062.
Irhimeh M. R., Fitton J. H., Lowenthal R. M., Fucoïdan ingestion increases the expression of CXCR4 on human CD34+ cells, Experimental Hematology 35 :989–994.
Ismail Z., Kamel A., Yacoub M., Aboulkhair A., et al. 2013 The Effect of In Vivo Mobilization of Bone Marrow Stem Cells on the Pancreas of Diabetic Albino Rats (A Histological & Immunohistochemical Study), International Journal of Stem Cells Vol. 6, No. 1,1:11
Jensen G. S., Hart A. N., Zaske L. A. M., Drapeau C., Gupta N., Schaeffer D. J., Cruickshank J. A., 2007, Mobilization of human CD34+CD133+ and CD34+CD133+ stem cells in vivo by consumption of an extract from Aphanizomenon flos-aquae – related to modulation of CXCR4 expression by an L-selectin ligand ?, Cardiovascular Revascularization Medecine 8:189-202.
Karkos P. D., Leong S. C., Karkos C. D., Sivaji N., Assimakopoulos D. A., 2011, Spirulina in clinical practice: evidence-Based Human Applications, Evidence- Based Complementary and Alternative Medicine, 531053:1-4.
Pietri Anne-Marie, 2011, L'aliment le plus complet de la planète, Editions Lanore.
StemEnhance ULTRA FAQs
What is StemEnhance ULTRA?
StemEnhance ULTRA concentrates and combines extracts from nature's most primitive superfoods, fresh water microalgae, providing the body with the ultimate in stem cell support.
Why is StemEnhance ULTRA beneficial?
StemEnhance ULTRA assists the body's inherent ability for long-term self-renewal by supporting the body's natural release of adult stem cells from the bone marrow.
What are adult stem cells and why are they important?
The primary roles of adult stem cells in a living organism are to maintain and repair the tissue in which they are found. Furthermore, adult stem cells released from the bone marrow can migrate into various tissues where they contribute to the process of tissue repair.
Can StemEnhance ULTRA be consumed with other Cerule products and other nutrients?
Yes, the Cerule products can be consumed together and were designed to enhance the beneficial effects of each other. We know of no known complications or interaction between the Cerule products and other nutritional supplements.
Can pets consume StemEnhance ULTRA?
StemEnhance ULTRA is formulated for human consumption. We know of no reason that it may be harmful to pets. AFA and Spirulina have been used in the pet nutrition industry for years. However, we have done no studies using the products for pet consumption. Please check with your veterinarian.
What is the capsule made from?
The capsule is vegetarian and made from Hypromellose. Hypromellose is cellulose derivative or plant fiber.
Is StemEnhance ULTRA certified Kosher and Halal?
StemEnhance ULTRA ingredients are certified Kosher and not certified Halal.
What is the shelf-life of StemEnhance ULTRA?
There is an expiration date on the bottom of each bottle. StemEnhance ULTRA has a shelf-life of 3 years from manufacturing. All bottles should be stored in a cool, dry place.
What if I can't swallow capsules?
Capsules can be opened, and the contents can be mixed with food. A pureed texture is recommended.
Are there any known nutrient-medication interactions?
Like many green foods, StemEnhance ULTRA contains naturally occurring vitamin K, which could interfere with vitamin K blockers used to thin blood, such as Coumadin. If you have any health condition and/or are using medication, then consult your attending health care provider before consuming any nutritional supplement.
Some people, due to their conditions and medications, need to manage their intake of certain nutrients. As a wild harvest, organic product, the nutrient content of the ingredients may be variable. Past analysis has found the typical naturally occurring nutrients found in the plant based ingredients within StemEnhance ULTRA to be:
Vitamin K – 20 mcg per serving (2 capsules)
Iron – 0.34 mg per serving (2 capsules)
Iodine – 4 mcg per serving (2 capsules)
Sodium – 9.66 mg per serving (2 capsules)
PEA - >5 mcg per gram
Why does the StemEnhance ULTRA label state "consult your physician if you are pregnant or nursing"?
Pregnancy and nursing are considered special conditions. We recommend that your attending doctor(s) be made aware of any and all supplements consumed during this time. At this time, we do not advise StemEnhance ULTRA consumption during pregnancy
StemEnhance ULTRA Reviews
---
"I couldn't sleep, couldn't concentrate, no energy at all. But everything changed for the better when I started taking StemEnhance ULTRA!"
---
"I can't believe how quickly I felt the sensational positive impact of taking StemEnhance ULTRA. It was only 3 weeks! What an amazing difference!"
---
"I became interested in Cerule products after I noticed my friend experience great health improvement. I suffered from joint pain all the time, especially in my thumbs and lumbar level. I started taking StemEnhance ULTRA in February 2019 at the rate of 4 capsules per day. After 3 months of consumption, I started to feel a clear improvement of my lumbar pain. Shortly after, I started to feel the changes in my thumbs and wrists. I recommend StemEnhance Ultra for the comfort of life that it provides."
---
"Since February 2019, I have been taking the recommended dose of StemEnhance ULTRA and Cyactiv every day. I had sciatic pain on both sides, I could not walk and my movements were very limited. I felt the first effects of the products within the first week! Gradually, I started regaining my well being with and had almost no more pain. I tried after a few months to stop the Cerule Products, but I couldn't resist because the pains came back almost immediately!"
---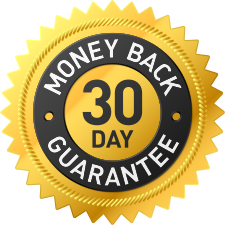 TRY CERULE RISK FREE!!!
Didn't see the results you expected from Cerule? You're covered by our 30 day money back guarantee. If you are unhappy with your purchase, please return merchandise and receive a full product refund for your order less tax, shipping and processing.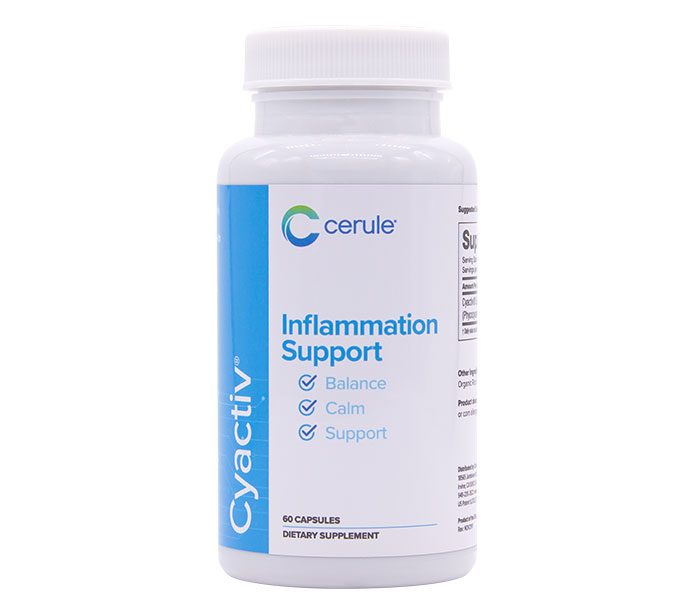 Balance and calm whole-body inflammation - Cyactiv is a proprietary formula proven to reduce systemic inflammation that has been associated with a myriad of health issues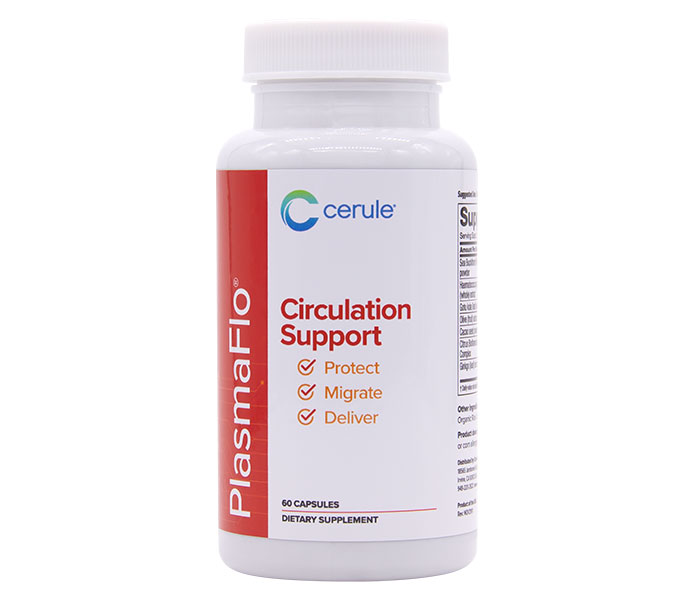 Regulate optimum blood flow - PlasmaFlo is an exclusive formula containing a proprietary blend of proteolytic and fibrinolytic enzymes
AFA Regenerating Night Cream
Reverse the signs of aging and look younger - The first of its kind, AFA Regenerating Night Cream assists the skin in the process of cell renewal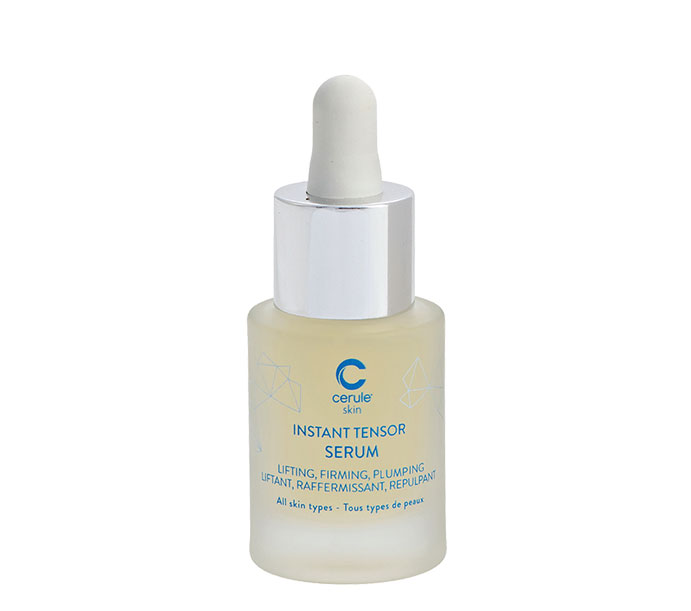 Facelift in a bottle - Instant Tensor Serum is a natural concentrated anti-aging skincare, suitable for all skin types.
*These statements have not been evaluated by the Food and Drug Administration.
This product is not intended to diagnose, treat, cure or prevent any disease.